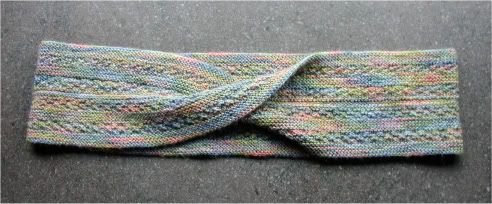 I'm making good progress with my socks. I have two pairs on the needles, but keep thinking about starting another Moebius scarf. I've made two Moebii, and am tempted to cast on another. They are as addictive as knitting socks.
I made my first scarf using this pattern:
Moebius Scarf - The Original
. I had a skein of white Woolease and cast on 200 sts with size 6 circular needles. I didn't know I needed a long circular needle, and I knitted away on a 29" circ until it was twisted around so tight it hurt my wrist to knit a stitch. I had another size 6 circ, so I started knitting with that, and knit all the stitches onto my new circ. I kept knitting in the round, but using two circs. After the first 2 rounds it worked very well. I'm not going to buy any long circular needles, and will keep using 2 short ones.
I knit alternating sections of garter stitch and moss stitch, and bound off when I had a few yards left. My Woolease Moebius measured 5 x 48" and goes around my neck 2 times, forming a warm, snug cowl.
I liked it, but the Woolease was a bit stiff. Folded in half lengthwise, it was bulky and scratchy. I wanted a scarf that was more flexible, and not so much like a neck brace. I poked around my stash and found some Cherry Tree Hill Supersock merino fingering weight. I looked at the skein of Spring Frost and realized it was too pretty to spend its life hidden in shoes. My decision was made, I grabbed my size 2 circular needles and cast on.
After some calculations, I cast on 260 stitches and knit alternating stripes of garter and check stitch. The colors in the yarn swallowed up most of the patterning, but I'm happy with the way it turned out. The final measurements are 5 x 38", which makes a snugger cowl, but the sock yarn is more flexible and is not as bulky. Also, the scarf is shorter so I can wear it as a single loop more comfortably. I used 64 grams, and there's not enough left to make a smaller one. I may knit a small tube to use as a scarf ring.
So I'm ready to start another Moebius, only even lighter weight. I have some angora I could use, I may swatch that and see if I want 2 strands or 1. I'd like to make a lacy scarf, but not fuzzy. I'm considering cotton thread, I have lots of that, but I'm not sure how it would drape and show a pattern. Another swatch, I guess.
I have been using a regular long tail cast on. It works, but there is a definite ditch in the center of the scarf. I want to try the provisional cast on for the next one, and perhaps that will make a difference.
I found a Yahoo Group that is knitting all kinds of Moebius.
MagicalKnitting
. I don't have Cat Bordhi's books yet, but am considering a purchase. I do have some birthday money from my mom.