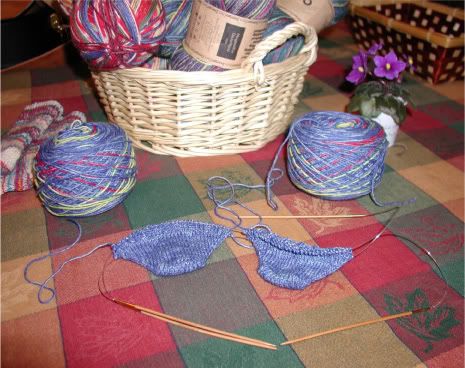 I'm past the toe increases on my 2nd pair of Opal socks. This pair is going to be the same size as the first ones, about 7" long. I'm using Farbe 526, Partie 5119. It's interesting that the toes are all solid so far. I thought there would be more yellow and red stripes, but so far it's all solid.
The needles and yarn are all so neat and tidy on the table. No twists, no tangles, it all looks so easy. Don't let it fool you, it feels like I'm tangling with a devil child. I didn't have too much trouble on the previous pair, but I switched to 2 circs after the heels. With this pair the yarn twists, turns and wraps around and through the needles. I am developing a method that involves ignoring the twisting until I finish one complete round. Then I untwist or whatever, and do another round.
In theory, 2 socks on 2 circs is faster and easier. So far, my post-it notes with tally marks seem like an insignificant nuisance. Maybe the 3rd pair will be back on my dpns.